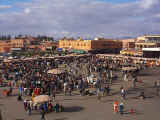 Jan. 9-11, 1999 Marrakech, Morocco
They say that Marrakech is the heart of Morocco, and that, in turn, Place Jemaa El Fna is the heart of Marrakech. So we decide that the best way to 'take the pulse' of this eccentric country, and the exotic city that best exemplifies it, is to step right into the flow of its pumping veins. It's about 3:00 in the afternoon as we waltz our way into this lively and vibrant town square. Immediately we hear it, the heartbeat of the Jemaa El Fna 'carnival', as it carries through the mid-afternoon air.
It is the rhythm of the thumping of hands upon the stretched skin of bongo drums. Bop-a-da, bop-a-da, bip, bip, bip; bop-a-da, bop-a-da, da, da, da; bop-a-da, bop-a-da, bap, bap, bap. It seems the whole square is moving to the its beat. Bop-a-da, bop-a-da, bip, bip, bip, we can feel it too, as it goes on and on.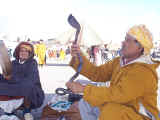 Beating and pulsing, this living monster seems in constant motion. Moving and twisting, its whole is actually made up of many small circles, constantly forming and then dispersing, as others form again. The center of each circle is the 'entertainment de momento'. Lasting sometimes only minutes, each drama must instantaneously unfold, as it competes with the others for the fickle attention of the shifting mass of people. We become part of the mass as we move from center ring to center ring in this, one of the world's last great informal circuses.
In this 'ring' we watch turban topped snake charmers sitting cross legged, cheeks puffed out, as they blow their weeuurning horns in hopes of seducing their squirming, hissing, and very deadly dance partners.
This ring hosts herbal healers mixing concoctions of dried lizard, snake, and cactus flower for skin rashes and blemishes.
While this other gathering features a man with horrific birth defects, twisting what only remotely resemble two giant thumbs on each arm stump, and a few long, puffy toes from both lower appendages, into a grotesque fleshy pretzel.
Over there, a charged circle erupts with cheers, as the smaller of two five year old boys gets a solid right hook to his opponent's head in the sad, but apparently popular sport of child boxing.

And this ring hosts a small band of drums, strings, and horns playing an eerily enticing melody, born from deep within the desert sands.
We join another periphery of onlookers as they applaud a half dozen young acrobats, all decked out in tattered green, orange and red silk costumes, performing amazing feats of agility and flexibility. One acrobat bends over while standing into a handstand. Another flips and spins forward and sideways in midair, just missing a third, doing one-handed somersaults while staying in place.
Over here, there's a monkey trainer sometimes arguing with, sometimes rewarding, his show-stealing but far less paid partner. Suddenly, as if staging a protest, the strong-willed primate tires of the scene, pulls his leash loose, darts free from his trainer, and sprints out into the crowd. A chase ensues with near disastrous results, as the cute little fellow runs round the plaza and then out into the edge of oncoming traffic. Helpful spectators do their best to step on the leash, as it, trailing the monkey, whizzes past their feet. The escapee finally jerks to a stop, feet flying out from under him, as someone's boot finally finds its mark on the leather strap.
The next group we join lights up with laughter as a white bearded storyteller apparently wraps up his intriguing yarn with a surprisingly humorous ending.
The following ring features cymbal players twirling the tassels on their felt Fez hats as they dance. They are joined by bongo drummers pounding out a pulsing rhythm with their step.
At our next stop, I have to stoop down and look between the legs of the spellbound group of Berbers, only to catch but a small glimpse of the gellaba clad master magician captivating his audience.
Interspersed and weaving through the masses, water carriers hand out small bits of the basic refreshment (for locals only, as we know better than to drink the water), and orange juice hustlers carry trays of glasses full of the fresh squeezed stuff.
Also at our service are sidewalk dentists, at the ready with either used dentures or 'previously owned' teeth, if quick replacement is in order; or shiny pliers and intimidating pullers, if speedy removal will better do the trick.
Or maybe if we're feeling somewhat down in the mouth, a nice henna design (hand painted tattoo in semi-permanent ink) on our arms and hands from one of the many wandering artisans, will best lift our spirits.
Or, to create our own amusement, we can join the other unwitting contestants doing their best to gingerly place a small rubber donut dangling from a cane fishing pole, over the only slightly smaller neck of a soda bottle. None of those options really appeal to us, so we duck into the adjoining bazaar for a little bargain hunting.
Back out and into the square, a bit of a chill fills the air as the sun begins its decent from the sky. First under orange, then crimson, blue, and finally, purple clouds, the darkness gradually replaces light. Just under the last shrouds of light, carts laden with metal framing appear out of nowhere. Rows and rows of temporary food booths pop up, displacing the crowds as they fill the asphalt square. Like the little stars in the sky above, single bare-bulb lights blink on, one at a time, in each of the booths. In a wink, huge tables heaping with piles of fresh food and smoking red-hot grills ready to cook it, are set to serve the waves of expected guests.
Waiters clad in white coats and little paper hats, motion people in for a seat at their temporary stalls. Squawkers aid their efforts by coercing each passerby in their guess of their target's native tongue. "Labes!!" "Hello!!" Ola!!" "Bon jour!!". I even get a few "Alli Baba"'s (a famous Arabic bearded warrior) thrown at me as we walk by, curiously shopping the delicacies of each booth.
There is something for every palette - from goat's head soup, to plump cow's liver, to fresh-in-the-shell escargot. Laura picks a stall that she "just likes, O.K.?", so we sit down and begin pointing to things for them to prepare for us. Our Jemaa El Fna outdoor feast is made up of a little fish (fried whole), a few beef kabobs, some bread, pepper seed-olive dip, and of course, two glasses of hot mint tea to wash it all down. "Yum-yum! Alli Baba like very much!"